Cultivating a Honeycomb of Gracious Words (Proverbs 16:24) - Your Daily Bible Verse - January 12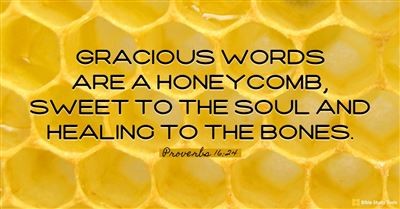 Crosswalk.com

Cultivating A Honeycomb of Gracious Words
By Lynette Kittle
"Gracious words are a honeycomb, sweet to the soul and healing to the bones." -- Proverbs 16:24
What words are you putting out into the world? Are you choosing your words thoughtfully, taking every opportunity to encourage and uplift others? Are your words sweetening the lives of those who hear or read them?
Or, are you following the Social Media trend to speak your mind, set someone straight, or put another in his or her rightful place?
Maybe you try to be encouraging but others just push your buttons to the point where you feel like you have to say something or you'll burst!
It's so easy in heated moments of conflict to get caught up in the latest political, social, fashion, or celebrity debate and say things you'll wish later you hadn't said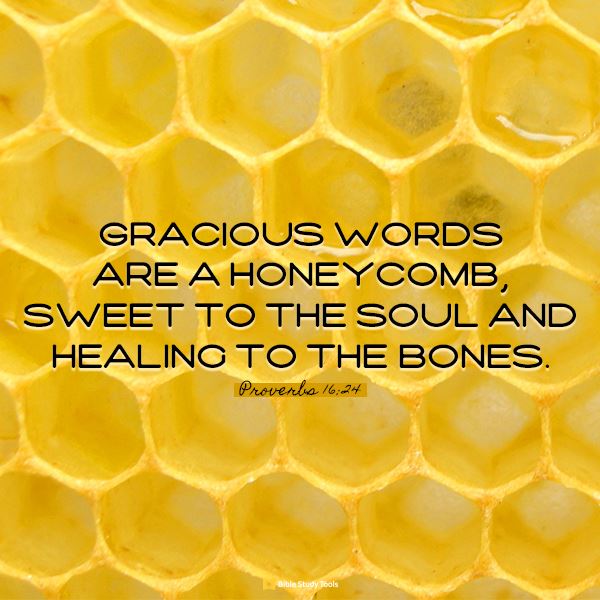 So if you slipped up in your words a few times, you're not alone.
James 3:2 describes how, "We all stumble in many ways. Anyone who is never at fault in what they say is perfect, able to keep their whole body in check."
Still, Scripture reminds that, "Those who consider themselves religious and yet do not keep a tight rein on their tongues deceive themselves, and their religion is worthless" (James 1:26).
Maybe you've been surprised by things you've heard or read by other Christians? Perhaps your own words at times have caught you off guard?
Proverbs 13:3 gives incentive for choosing to be careful with your words, describing the difference it can make in your life to do so, stating, "Those who guard their lips preserve their lives, but those who speak rashly will come to ruin."
If you struggle with speaking careless words, ask God to, "Set a guard over my mouth, Lord; keep watch over the door of my lips" (Psalm 141:3).
As well, Psalm 34:13 urges to "Keep your tongue from evil and your lips from telling lies."
When you do, Proverbs 12:14 encourages that from the fruit of your lips you will be filled with good things.
Likewise, Proverbs 16:23 describes how, "The hearts of the wise make their mouths prudent, and their lips promote instruction."
Ask God to direct your speech so that your words are helping to build up the faith of those around you. As Colossians 3:16 urges, "Let the message of Christ dwell among you richly as you teach and admonish one another with all wisdom through psalms, hymns, and songs from the Spirit, singing to God with gratitude in your hearts."
---
Lynette Kittle is married with four daughters. She enjoys writing about faith, marriage, parenting, relationships, and life. Her writing has been published by Focus on the Family, Decision, Today's Christian Woman, iBelieve.com, kirkcameron.com, Ungrind.org, and more. She has an M.A. in Communication from Regent University and serves as an associate producer for Soul Check TV.
Read through the Bible in Community This Year!
We're Tricia and Michelle, two friends inviting you to join us in reading through the Bible chronologically this year. Reading the Bible every day can be a challenge. We're here to sum up each day's passage and provide action steps ... in under 15 minutes. Grab a buddy and join us on The Daily Bible Podcast. Take the plunge, and let's read through the Bible together. We'll be cheering you on all the way!