God Uses Pain to Help Us Grow - Bible Study Minute - January 14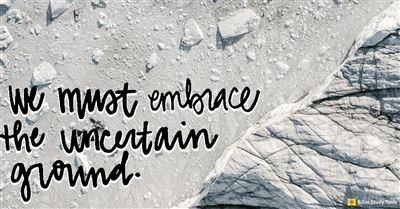 Crosswalk.com

God Uses Pain to Help Us Grow
By John D. Barry
"The LORD is my shepherd, I lack nothing. He makes me lie down in green pastures, he leads me beside quiet waters, he refreshes my soul. He guides me along the right paths for his name's sake. Even though I walk through the darkest valley, I will fear no evil, for you are with me; your rod and your staff, they comfort me. You prepare a table before me in the presence of my enemies. You anoint my head with oil; my cup overflows. Surely your goodness and love will follow me all the days of my life, and I will dwell in the house of the LORD forever." -Psalm 23
Watching the day-old calf frolic across the field—full of life and hope—I am filled with joy. I then see its mother, nudging it forward. I am reminded of the way God cares for us. He knows the difficult life ahead, just like this mother cow, but he wants us to enjoy our time in the green pasture nonetheless (Psalm 23). He nudges us along.
"Every age has its turn. Every branch of the tree has to learn. Learn to grow, finds its way, Make the best of this short-lived stay." —José Gonzaleź, "Every Age"
We all have to learn to find our way. We all have to grow. And we cannot do so when we are stagnant. We must move along. We must stand up and walk, even run, like that day-old calf. We must embrace the uncertain ground, knowing that in this field and in the next, and in the one after that, we will grow and learn. If God says it is in his will to move along—if he nudges our heart—we should do so (Luke 9:62). Yet the uncertainty of life often overwhelms us.
A GOD WHO LURKS IN THE UNCERTAINTY
If you look back at the lives of the prophets—from Moses to Elijah to Jonah—it is clear that their lives were often lived in the uncertainty. God nudged them to unknown places—from wildernesses, to mountain tops, to foreign cities—but he was there each step along the way. God gave the prophets the words to say and the provision they needed (e.g., 1 Kings 17; Jonah 4:6–7; Exodus 16).
The prophets had to learn and grow. And in the uncertainty, God made that happen.
Knowing the future sounds wonderful, but it would ruin the present. The future is only God's to behold (compare Ecclesiastes 8:7).
THE GROWTH WE DESIRE
Growth often means pain. And growth without pain is an oxymoron. Suffering is often how God shows us himself. Suffering is part of the call to serve Jesus.
"If anyone wants to come after me, let him deny himself and take up his cross and follow me" (Matthew 16:24 LEB).
It may be hard to hear these words, and I know from experience, that they are even harder to live. But when lived, these words will transform us.
Think of your growing pains as a child—that summer when your legs hurt so bad that you couldn't seem to drink enough milk. Your body was transforming. Without that pain, you wouldn't be who you are today. This is how faith is; it is often like growing pains.
"Count it all joy when you fall into various trials, knowing that the testing of your faith produces patience. But let patience have its perfect work, that you may be perfect and complete, lacking nothing" (James 1:2–4 LEB).
We know why suffering should be counted as joy, because it will change us for the better. It will draw us closer to God.
If the mother cow didn't nudge her calf along, it would never see the green pasture outside the barn. It would live a life that was boring, sad, and stagnant. If God didn't nudge us along into the unknown, we would never experience the joy of others coming to Christ, of our relationships with him growing. We wouldn't see the pierced hands of Christ for what they really are—redemption, relationship, and the freedom to know God.
Editor's Note: This article was adapted from the original, found here.
We want to experience God through the Bible… we really do!
But our good intentions fall flat when reading the Bible just doesn't seem to help us experience God in a real way. What should feel alive often feels confusing and boring and irrelevant. But it doesn't have to.
In the How to Study the Bible podcast, pastor and Bible teacher Nicole Unice brings life back to reading the Bible by walking listeners through her Alive Method of Bible study, helping us personally encounter God through his Word by giving us a practical, clear road map for understanding, interpreting and applying Scripture to our lives. Just click below to start listening now!