5 Powerful Prayers For Husbands Every Wife Needs to Pray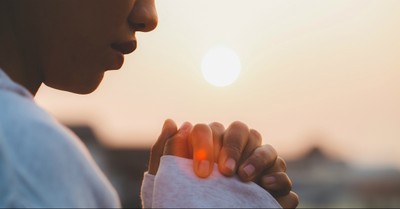 By Mindy Jones, Crosswalk.com
Praying powerful, Scriptural prayers for our husbands isn't something we do every once in a blue moon or even whenever we feel like it. Instead, something that we MUST do and should be doing every day! Our husbands are constantly under spiritual attack, whether at work, at home, or even while serving in the church. As their wife and helpmate, we should view him as a gift and actively pray the Word of God with and for them. We have repeatedly seen the power of prayer in Scripture, and hopefully, as you reflect on your life, you can see it as well.
There are so many prayers and prayer points to pray over our husbands, so I'd like to give a general guideline of where to begin with these five. Then you can start there and let the Spirit lead in how else to pray for your husband specifically. Most will fall under these five categories, but you know your husband well, and most importantly, God knows him intimately and hears the cries of wives' hearts. Under each prayer is 2-3 verses surrounding that subject with correlating prayers. Again, feel free to personalize them and make them relevant to your and your husband's situation, or simply pray through each verse listed.
So let's get right into these five powerful prayers every wife should pray over her husband!
1. Prayer for Your Husband's Individual Spiritual Growth
"But grow in the grace and knowledge of our Lord and Savior Jesus Christ. To him be glory both now and forever! Amen." 2 Peter 3:8 NIV

"But the seed on good soil stands for those with a noble and good heart, who hear the word, retain it, and by persevering produce a crop." Luke 8:15 NIV
"So then, just as you received Christ Jesus as Lord, continue to live your lives in him, rooted and built up in him, strengthened in the faith as you were taught, and overflowing with thankfulness." Colossians 2:6-7 NIV
Prayer: Father God, thank you so much for my husband. Lord, I ask for continued growth in grace and knowledge of you in him. Thank you for beginning good work in him and for his salvation, and that one day you will bring it to completion. Renew in him a desire for you, God, and a desire to read and be firmly planted in your Word. Let his soil be that of someone who hears and receives your Word and produces good fruit. In Jesus' name, Amen.
2. Prayer for Your Husband to Have Wisdom and Discernment
"The fear of the LORD is the beginning of knowledge, but fools despise wisdom and instruction." Proverbs 1:7 NIV

"If any of you lacks wisdom, you should ask God, who gives generously to all without finding fault, and it will be given to you." James 1:5 NIV
Prayer: Lord, I lift up [name] right now to you and ask that you fill him with all wisdom and discernment. Every day there are so many decisions he is faced with, whether big or small. I ask that you help him grow more in knowledge and love for you so that he would heed your instruction and keep your words close to his heart. Help him seek you and ask, for you want to give generously to him. Help him seek you in all decisions and give him the discernment to see what is good and what is not good. In Jesus' name, Amen.
3. Prayer Against Temptation in Your Husband's Life
"But each person is tempted when he is lured and enticed by his own desire. Then, after desire has conceived, it gives birth to sin; and sin, when it is full-grown, gives birth to death." James 1:14-15 ESV

"So I say, walk by the Spirit, and you will not gratify the desires of the flesh." Galatians 5:16 NIV
"No temptation has overtaken you except what is common to mankind. And God is faithful; he will not let you be tempted beyond what you can bear. But when you are tempted, he will also provide a way out so that you can endure it." 1 Corinthians 10:13 NIV
Prayer: Father God, I ask that you help [name] in his areas of temptation. Remind him of your Word, Lord, and that you will always provide a way of escape. I ask for protection against temptation or the footholds that could eventually lead him into temptation. Help him to renew his mind daily and to understand the seriousness and consequences of giving into sin. Help him not to gratify the desires of the flesh but to walk by the Spirit instead. In Jesus' name, Amen.
4. Prayer of Physical, Mental, and Spiritual Protection Over Your Husband
"But the Lord is faithful, and he will strengthen you and protect you from the evil one." 2 Thessalonians 3:3 NIV

"Be strong and courageous. Do not be afraid or terrified because of them, for the LORD your God goes with you; he will never leave you nor forsake you." Deuteronomy 31:6 NIV
Prayer: Lord, I ask for your protection over my husband in all areas of his life - physically, mentally, and spiritually. I pray for good health and the desire to take care of the temple (body) you have given him. Renew and protect his mind to not dwell on negative thoughts or things that are not of you. I pray against the schemes and attacks from Satan that are not seen. Thank you for your faithfulness in his life, and I ask that you remind him of those times so that he will remember that you are always with him. In Jesus' name, Amen.
5. Prayer for Spiritual Leadership
"Fathers, do not exasperate your children; instead, bring them up in the training and instruction of the Lord." Ephesians 6:4 NIV

"Husbands, love your wives, just as Christ loved the church and gave himself up for her to make her holy, cleansing her by the washing with water through the word, and to present her to himself as a radiant church, without stain or wrinkle or any other blemish, but holy and blameless." Ephesians 5:25 NIV

"Now the overseer is to be above reproach, faithful to his wife, temperate, self-controlled, respectable, hospitable, able to teach, not given to drunkenness, not violent but gentle, not quarrelsome, not a lover of money." 1 Timothy 3:2-3 NIV
Prayer: Father God, I ask that you help my husband be the spiritual leader you have called him to be. I can't imagine the amount of pressure he may feel at times or the burdens and weight he carries, but Lord, you are good to give in your yoke, which is easy and light. Remind him that you have called him for a purpose, and he can operate in your strength alone. I ask for specific prayer in his parenting that you would help him lead our children and train them up in righteousness. I ask that you help him fulfill his calling as a husband and love me as you loved the church, Jesus. I ask that he be above reproach and seek after the qualities of a godly man. Thank you for him, Lord, and bless him. In Jesus' name, Amen.
If you need more guidance or assistance in praying for your husband, there are many resources out there to help! First, reading God's Word is the number one way to find ways to pray for your husband; reading the Scriptures and letting those be your prayers is very powerful.
Another "helper" book, if you will, is called The Power of a Praying Wife by Stormie O'Martian. It is a great daily devotional book to pick up and pray for your husband in unique and specific ways.
I hope these prayers help you focus on the importance of lifting your husband up in prayer daily. We are our husband's helpmate, biggest fan, and number one supporter. Watch his life and your marriage be transformed by the power of a praying wife!
Photo credit: ©GettyImages/Tinnakorn Jorruang