Can Men and Women Be "Just Friends"?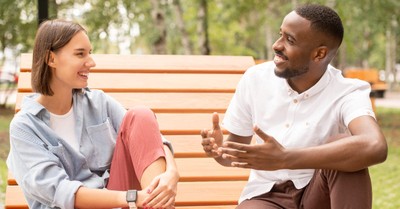 By Lynette Kittle, Crosswalk.com
As Christians, can men and women have healthy friendships with the opposite sex?

Male and female friendships can be complicated to navigate, whether in the secular world or a church setting. Nowadays, both men and women often find themselves in situations where they are thrown into close associations with the opposite sex, whether at work, in church, or in other circumstances.

Unfortunately, friendships between opposite sexes often lead to inappropriate relationships. There are countless sad stories of married men and women who spent too much time with someone other than their spouse, leading them into adulterous affairs. Galatians 5:19 describes how sinful desires lead to sexual immorality, impurity, and promiscuity.
Sadly, some church leaders have made national headlines after being accused of extramarital affairs, often with women within their own congregations, bringing heartbreaking and devastating results to their wives, families, congregants, and communities.
How Can We Be Friends?
Romans 12:1 addresses all Christians, both male and female, whether single or married: "Therefore, I urge you, brothers and sisters, in view of God's mercy, to offer your bodies as a living sacrifice, holy and pleasing to God--this is your true and proper worship."

Friendship is possible when we lay our lives down before the Lord and live holy and pleasing lives before Him. As described in Luke 8:1-3, Jesus had opposite-sex friends, demonstrating how it's possible to have virtuous men-women friendships.
"After this, Jesus traveled about from one town and village to another, proclaiming the good news of the kingdom of God. The Twelve were with him, and also some women who had been cured of evil spirits and diseases: Mary (called Magdalene) from whom seven demons had come out; Joanna the wife of Chuza, the manager of Herod's household; Susanna; and many others. These women were helping to support them out of their own means."
Godly friendships between men and women can be rich in offering prayer support, a sense of acceptance, respect, encouragement, Christian fellowship, and more without crossing lines that lead to sexual immorality.
Is It Worth the Risk?
Still, having opposite-sex friends comes with risks and requires heartfelt consideration, starting with examining ourselves first to see if we have weaknesses that may cause us to be more vulnerable in a male-female friendship.
Also, if married, it's crucial to see if our relationship is solid or if we are living on shaky ground, feeling our spouse isn't meeting our needs. If frailties exist or there is a sense of lacking at home, we have good reason to avoid being in male-female friendships. Instead of taking risks, we want to guard ourselves against letting weaknesses and feelings of lack get the best of us.
Proverbs 4:23 cautions us, "Above all else, guard your heart, for everything you do flows from it."
Where Does Our Strength Come From?
Likewise, feeling confident in our own strength and ability to resist sexual temptation can actually be a weakness. Thinking we're too smart to be led astray and don't need boundaries leaves us open to the enemy's schemes.
Trusting in ourselves leaves us vulnerable to being blind-sighted. 1 Corinthians 10:12-13 strongly cautions us to place our confidence in the Lord's strength and not our own:
"So, if you think you are standing firm, be careful that you don't fall! No temptation has overtaken you except what is common to mankind. And God is faithful; He will not let you be tempted beyond what you can bear. But when you are tempted, He will also provide a way out so that you can endure it."
Are We Alert to the Dangers?
We also want to be aware that there are some within churches who prey on the weaknesses of others, so we must be alert to the possibility of others trying to take advantage of our frailties.
"They are the kind who worm their way into homes and gain control over gullible women, who are loaded down with sins and are swayed by all kinds of evil desires, always learning but never able to come to a knowledge of the truth." 2 Timothy 3:6-7
Sadly, too many hurting men and women have been targeted within churches by those of the opposite sex who see an opportunity to take advantage of them.
What Does God Say About Opposite-Sex Friendships?
Because we are created male and female (Genesis 5:2), what might start as a friendly, innocent friendship between opposite sexes can turn into something inappropriate if we don't heed godly guidelines in how to relate to each other.

1 Timothy 5:1-2 offers us direction on how to relate in opposite-sex friendships. "Do not rebuke an older man harshly, but exhort him as if he were your father. Treat younger men as brothers, older women as mothers, and younger women as sisters, with absolute purity."
How we view the opposite sex is important to our personal integrity and relationship with God. He calls us to be pure in heart in how we look at each other in the nature of our responses to one another and our overall interactions.
Are We Heeding God's Warnings?
In 1 Thessalonians 4:3-8, God gives strong direction in the sexual behavior of men and women, along with warnings:

"For it is God's will that you should be holy: You must abstain from sexual immorality; each of you must know how to control his own body in holiness and honor, not in lustful passion like the Gentiles who do not know God; and no one should ever violate or exploit his brother in this regard, because the Lord will avenge all such acts, as we have already told you and solemnly warned you. For God has not called us to impurity, but to holiness. Anyone, then, who rejects this command does not reject man but God, the very One who gives you His Holy Spirit."
Are We Willing To Set Boundaries?
1 Thessalonians 5:22 cautions us to avoid all appearances of evil, including situations that could look inappropriate and lead to questionable situations. Below are a few boundaries married men and women can set up to help keep their male-female friendships from crossing lines:
–Avoid one-on-one situations with opposite-sex friends, where closeness has the opportunity to develop into an inappropriate relationship, such as carpooling, going out to lunch, or sharing a workspace together, to name a few.
–Resist confiding in one another by sharing secrets, intimate information, and inside jokes.
–Keep from discussing intimate details about spouses or marriages with each other.
–Be careful with interaction on social media outlets, and through emails and texts, with opposite sex friends.
–Refrain from affectionately touching each another.
–At the first sign of taking a turn towards more than being a platonic relationship, be willing to address the issue and step back from the friendship if necessary.
–If wanting to spend more time with an opposite-sex friend than a spouse, re-evaluate the friendship and re-direct more time, attention, and efforts towards being with spouse.
Will We Listen to the Leading of the Holy Spirit?
God has a way of revealing our intentions and motives if we listen to His leading. Sadly, "The grass looks greener on the other side" is alive and well in Christian circles and churches.
As well, we are wise to be open to the counsel of friends, family, and spouses who may be able to see various issues within a friendship. Women often spot another women's intentions towards a man before the man does. Likewise, men have a way of sizing up another man's character and intentions more precisely than many women.
Tragically, moral failure is nothing new within the Church. The Apostle Paul wrote, "I am afraid that when I come again my God will humble me before you, and I will be grieved over many who have sinned earlier and have not repented of the impurity, sexual sin and debauchery in which they have indulged" (2 Corinthians 12:21).
Because sexual sin doesn't just devastate families but also brings destruction to our bodies. 1 Corinthians 6:18 urges us to "Flee from sexual immorality. All other sins a person commits are outside the body, but whoever sins sexually, sins against their own body."
Photo Credit: ©iStock/Getty Images Plus/shironosov
Lynette Kittle is married with four daughters. She enjoys writing about faith, marriage, parenting, relationships, and life. Her writing has been published by Focus on the Family, Decision, Today's Christian Woman, kirkcameron.com, Ungrind.org, StartMarriageRight.com, and more. She has a M.A. in Communication from Regent University and serves as associate producer for Soul Check TV.
Related podcast:
The views and opinions expressed in this podcast are those of the speakers and do not necessarily reflect the views or positions of Salem Web Network and Salem Media Group.
Related video:
Video credit: ©RhondaStoppe/SWN