6 Lies the World Is Telling Your Teens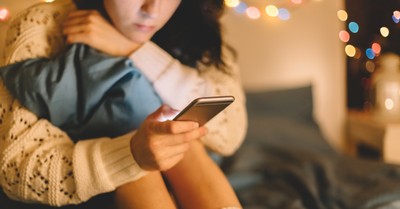 By DiAne Gates, Crosswalk.com
Thirty years ago, I had my first peek into the changing winds of education in America. The first warning came when the elementary and middle schools my children attended announced there would be no assigned homework and children would not be bringing textbooks home. Strange, I thought, then busied myself with more pressing issues.
My third-grade girl turned belligerent and sassy overnight. Just a phase, I reasoned, until several other mothers expressed the same concerns. And my sixth-grade boy? Sullen and silent. The children's grandmother, visiting from another part of the state, told us about books some teachers were using and the parents were alarmed and suing the school board. She called the name of the books and my daughter said, "Duso the Dolphin is my book too, Nana."
I phoned our principal next morning and asked to see the books, but he informed me the books had been returned to the school depository and were unavailable for examination. Upon calling the Book Depository, I was told the books were in transition. I could not see them. I phoned another elementary school, asked if they still had their books, telling her our school suggested she might let me view their books. She agreed and I rushed over to find what Nana told us was just the tip of a threatening iceberg.
"In those days, there was no king in Israel; everyone did what was right in his own eyes" (Judges 21:25 NAS).
1. There is no absolute truth.
The moment we accepted the ideology of no absolute truth we lost the ability to discern right from wrong. Our nation plunged into the abyss of Situation Ethics—your situation determines your ethics—which shreds biblical truth, tossing God's Word like chaff in the wind.
My children were exposed to Humanist teachings from two books not on the approved list of the State's Book Registry, Duso The Dolphin and Total Affective Behavior. One principle taught elementary ages "It's okay to lie if you have a good reason."
"Jesus said to him, I am the way, and the truth, and the life; no one comes to the Father, but through Me" (John 14:6 NAS).
2. God has nothing to do with creation.
I'm a writer, seamstress, cook, and artist. And books don't just happen. Gowns and dresses don't evolve. Cakes and paintings have recipes and rules. And rules of chemistry ensure reactions when ingredients mix. Then you want me to believe something as intricate and complex as our universe just happened? That requires more faith than it does to believe there is a Sovereign Creator—an Almighty God.
People and their theories have hijacked our educational system, kicked God from the classroom, and force-fed our kids' ideologies. Why? We're too busy. It's been easier to give others complete access to the hearts and minds of our children than to educate ourselves and stand as watchmen for our children.
"…because that which is known about God is evident within them; for God made it evident to them. For since the creation of the world His invisible attributes, His eternal power and divine nature, have been clearly seen, being understood through what has been made, so that they are without excuse" (Romans 1:19-20 NAS).
3. A little drinking or pot won't hurt you.
Have you ever known anyone who desired to become an alcoholic or an addict? No, me either. But it happens every day when kids have too much time and money, little supervision, few rules, and no accountability. Teens believes they're invincible, but many learn they're not.
"Everybody's doing it" is an argument meant to entice our kids to participate in harmful activities. Satan is baiting his hook like a fisherman, waiting for your kid to nibble so he can set the hook, and reel them in. And his bait and hooks are everywhere.
We must teach our kids they have an enemy who desires to destroy them. But Jesus will protect them if they understand their bodies are the temple of God. He loves them and has a good plan for their lives—even if they've messed up. That's why Jesus died—just for them!
"For I know the plans I have for you, declares the Lord, plans for welfare and not for calamity to give you a future and a hope" (Jeremiah 29:11 NAS).
4. Modesty is an old-fashioned rule.
Yes, you can. But does how you act and what you wear honor God?
What's a parent to do? Between TV, movies, magazines, and social media, how can we raise modest teens? Is the command for girls and ladies to be modest old-fashioned? If we use the media as a guide, it would surely seem so. But that's not what the Word says. If our hearts are humble before God, everything else falls in line with His order.
God instructs women to be modest in their dress, in their actions, and reactions. What does the content of your closet illustrate about you? Modesty doesn't mean you must wear drab clothing, but it does mean the clothes you wear should cover your body.
"Likewise, I want women to adorn themselves with proper clothing, modestly and discreetly…" (1 Timothy 2:9 NAS)
"And let not your adornment be merely external… but let it be the hidden person of the heart, with the imperishable quality of a gentle and quiet spirit, which is precious in the sight of God" (1 Peter 3:3-4 NAS).
5. It's the government's job to take care of everybody.
The storm of socialism roared into the college classroom years ago. Now it's crept into middle and high schools. Like my children's school books touted over 30 years ago, it only takes one generation to change a culture. And it looks like those who've replaced God are right on target.
God established governments to keep law and order in the land and to protect the country's citizens. We have raised a generation of kids who believe they are to be taken care of. We haven't taught them to work hard or allowed them to gain wisdom by suffering consequences, nor have we allowed them to learn the difference between wants and needs. May God have mercy on us.
"Let every person be in subjection to the governing authorities. For there is no authority except from God, and those which exist are established by God… For because of this you also pay taxes, for rulers are servants of God, devoting themselves to this very thing" (Romans 13:1 and 6 NAS).
6. We can all be on different paths to heaven.
God has become a feel-good word in this generation. But the Lord Jesus Christ is a stone of stumbling. When the name of Jesus comes into the conversation, you've struck a nerve.
Jesus told us it would be this way. It's time to be precise in our words of witness. All paths do not lead to heaven. Jesus was clear and concise about who He is and who we are in Him.
"Jesus answered, 'I am the way and the truth and the life. No one comes to the Father except through me.'" (John 14:6 NIV)
Related Resource: Listen to Our FREE Parenting Podcast!
Christian Parent/Crazy World with Catherine Segars is now available on LifeAudio.com. Biblical sexuality and cultural sexuality are diametrically opposed to one another. Catherine and her guest break down our culture's definition of sexuality and what parents can do. To listen, click the play button below.

DiAne Gates illustrates and writes fiction for children and YA, and serious non-fiction for the folks. Her passion is calling the church's attention to how far we've catapulted from God's order as evidenced by her blog Moving the Ancient Boundaries. DiAne worked as a photographer and writer for the East Texas Youth Rodeo Association magazine, and had the opportunity to be in the rodeo arena, giving birth to her western rodeo adventure series, ROPED, (available on Amazon), which was named #5 in the Top Ten Reads for Christians Teens and Tweens. The sequel, TWISTED, was released by Prism in July 2017. She also facilitates GriefShare, an international support ministry for those who've lost loved ones.
Photo credit: ©Getty Images/Martin DM
Related podcast:
The views and opinions expressed in this podcast are those of the speakers and do not necessarily reflect the views or positions of Salem Web Network and Salem Media Group.
Related video:
Are you in the trenches with your toddlers or teens? Read Rhonda's full article here!