3 Ways Grandparents Can Keep the Spirit of Christmas Alive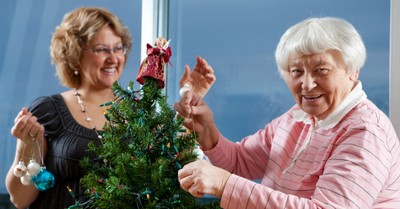 By Stacey Monaco, Crosswalk.com
Garlands, wreaths with berries and ribbons aplenty, and an assortment of all things Christmas are popping up everywhere. The neighbor at the end of our drive has already begun constructing her almost life-size nativity scene; our town streets are aglow with the cheer of lights and greenery.
In homes far and near, little ones are making their list of gift wishes, and grandparents everywhere are hoping to make lasting memories with their grandchildren.
As a grandmother of five grandchildren, I have already been filling my gift cupboard with stocking stuffers, Christmas PJ's and presents that I hope will bring a smile.
Last Christmas we filled our activity calendar with a skating day in the mountains, where I was surprised that my four-year-old granddaughter and I both managed to stay upright on the ice! A visit to Santa made it on the calendar, as did building a gingerbread house, and a drive to a local landmark awash with Christmas lights.
Christmas wonderment, and fun-filled activities to celebrate the season could be found everywhere from our church home to events planned throughout the community.
Every endearing grandparent hopes to make the most of each holiday season, with Christmas offering a natural opportunity for us to share our love for Jesus through generous giving, tradition, and telling the story of his birth.
As grandparents, these celebrations are events that we look toward throughout the year, and the thought of a COVID-Christmas can be disheartening. Nevertheless, be of good cheer fellow grandmothers and grandfathers: There are still many ways we can put love and memories into Christmas this year!
1. Far or Near: Christmas Is Still Here
When my first grandson was born almost ten years ago, my daughter and son-in-law had taken jobs in a small community three states away. It was my first experience as a grandmother, as well as my first experience with having a grandchild in a location that I couldn't easily visit on a daily basis.
I still had a preteen at home, and we simply couldn't travel for every holiday. I became one of the score of grandparents who have little ones they love living far away. But far or near, with some intentionality, we can bring Christmas to our grandchildren in delightful and meaningful ways.
Even if your grandchildren live just across town, but you are social distancing for the wellbeing of the family, try one or two of these ideas:
1. Mail your grandchildren a purchased or homemade advent calendar, and call or video-chat with them for a few moments each day when they open the gift or story-tab for the day.
2. Send your grandchild or grandchildren a Christmas themed book that you can read to them over FaceTime. You could even purchase the same book so they see you reading aloud and turning each page. Write a heartfelt message inside the front cover. I usually like to use a line from the book and personalize it just for them. At the end of the season donate your book to a local library, hospital, or children's group.
3. Create a "party-in-a-box." I came upon this idea a couple of years back, and it can be personalized to fit the holiday as needed. For Christmas you could include the ingredients for making gingerbread houses, or Christmas cookies. It can include a craft, perhaps to make an ornament. You may choose to add festive plates or décor, or any of the makings of a great kids party. Try to arrange to call or connect when they are opening the box, or at some point during their "party."
2. Don't Make Light of COVID, but Make COVID Light
Just over a year ago my husband and I made a move back to his hometown. We moved away from two of our grandchildren, with two others already long-distance, and one of our children decided to make the jump and move as well. I now spend 3 days a week watching my youngest granddaughter.
As COVID emerged on the scene decisions had to be made; with clarity we chose to continue to care for our granddaughter while our daughter pursued her education.
As we approach Christmas, we are all considering how to honor the health of our household, while remembering the health giving effects of celebration. Frankly, grandparents just want to have fun with their grandchildren. And we can! We can show them that we can make good health choices, and that in all seasons there are ways to bring love and life to others.
If you live nearby and want to be a physical presence at Christmas, but want to do so in a protected way, you can still socially distance in these fun ways:
1. Make or find matching Christmas masks and come together at an open-air Christmas tree farm or display of lights. Young grandchildren love having something that matches Grandma or Grandpa, and this teaches health safety while still honoring the season.
2. Surprise and delight your grandchildren by setting up a nativity or other décor in their front yard. Or decorate their front yard trees with big ornaments or strung pinecones. Bring hot-chocolate and cookies, and arrange with their parents to ring the doorbell in ding-dong ditch style, and then wave and smile from the curb, or your car.
3. If your grandchildren are a part of those you are near on a regular basis, it can be fun to decorate a small tree just for them. Just days ago my littlest granddaughter and I decorated her tree with small soft ornaments that reflect the Christmas stories we are reading this season. Every time she visits she takes the ornaments off and with fresh wonderment decorates the tree all over again.
3. Put Christ in Christmas
Recently, I came upon the concept that we are most like our Creator God when we ourselves are being creative. As we approach this season where we celebrate the birth of our Savior we each bring to it our unique stories.
We have within us creative abilities to share the love of Christ in our own specific traditions, hobbies, or hopes for our relationships with our grandchildren.
Some of us may be housebound. Budgets may be tight and distances far. Still, we can ask God for creative ideas that are within our own abilities and share our love at Christmas in a distinct and memorable manner with our grandchildren. Here are a few ideas to get your creativity flowing:
1. Tell the stories of your family and culture at Christmas through letters or a small video, or send the ingredients for a longstanding family holiday recipe.
2. Create a mini Christmas tree or photo book for your grandchildren, with photographs of past celebrations from when you or your children were young. Or send the photos so that they can decorate the tree or fill the photo album themselves. Little ones will pour over photo albums wanting to hear stories of the people they love.
3. Use any one of the hobbies you enjoy creatively, to make a moment that will celebrate your love of your grandchildren and show them the true heart behind Christmas.
As grandparents in 2020, we may find that Christmas cheer comes in the form of reading the Christmas story via Zoom to our grandchildren wherever they may live. Or we may turn to the beauty of a letter mailed and a package sent, with cheerful phone calls to listen to how our grandchildren are celebrating this season.
Those who sing might bring Christmas in the form of carols sung from front yards, or recorded in bits on your phone.
Holiday activities may look different, yet we still have the opportunity to celebrate this most joy-filled season by being a tangible and loving reflection of our love-filled God!
Photo Credit: ©GettyImages/ImageegamI
Stacey Monaco has been speaking and writing since her first unpublished children's book in the fifth grade. Her journey as a writer has taken her from the depths of blue water exploration, to the simplicity of crafting words to encourage and educate in the areas of loss, legacy, leadership, and living life passionately with purpose. Stacey received her Masters Degree in Christian Ministry and Leadership from Talbot School of Theology, and has worked in many roles from slinging coffee to pastoring women. To find more on living the Christian life with intention, head over to her website at StaceyMonaco.com.